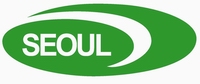 Leading global LED provider, Seoul Semiconductor is announcing today that market survey agency Strategies Unlimited recently reported in "High-Brightness LED Market Review and Forecast 2010", an in-depth report on the LED market, that Seoul Semiconductor is now ranked as No.4 worldwide in the LED market with total sale of USD 301 million
According to this report, the size of the world LED market in 2009 rose by 6.2% to USD 5.4 billion from 2008's USD 5.08 billion. As demands for LED TV increased, sales of LED products for display reached USD 370 million with a year-on-year increase of 178%. Furthermore, as applications for LED become more diverse, sales within emerging market segments such as general lighting applications and automotive has also greatly intensified.

Philips-Lumileds, who until 2008 were ranked 4th place, dropped down to the 7th place in 2009; being dislodged from their former position by Seoul Semiconductor. IMS Research, a market survey agency also raked Seoul Semiconductor as 4th in the global LED market in their recent report on LED market. The gap in sales between Cree, which held on to 3rd place in the report presented by Strategies Unlimited, and Seoul Semiconductor narrowed to only USD 50 million. It is widely expected that advancement in to a Top 3 position is now within reach for the Korean company.